The Monument


The focal point of the Upper Big Branch Miners Memorial is the granite monument at the center of the memorial plaza. It is forty-eight feet long and nine feet tall at its highest peak. The top of the memorial is cut to match the profile of the Appalachian mountains. Etched on the front are the silhouettes of twenty-nine life size miners standing shoulder to shoulder. Etched above the silhouettes is the seal of West Virginia and below them the inscription, "Come to me all you who labor and I will give you rest."
On the reverse side is a brief history of coal in West Virginia, a tribute to all coal miners who have suffered injury, illness or death as a result of working in the coal mining industry and a list of the men killed and injured in the explosion at Upper Big Branch.
The monument was designed by Rob Dinsmore of Chapman Technical Group in St. Albans, West Virginia. Engineering of the monument's extensive base and etching was done by Rock of Ages in Graniteville, Vermont. Completion of the monument took nearly seven months at a cost of about $200,000.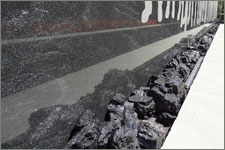 The monument is made from American Black granite, quarried from the Rock of Ages quarry in St. Peters, Pennsylvania. American Black granite is unique due in part to brilliant white variegation veining and is one of America's most popular monumental granites.
The monument is comprised of six individual segments that were precision etched to line up perfectly when set on site at the memorial. Each segment weighs 5.8 tons.
Coal from the Upper Big Branch mine was used as a decorative element to cover the monument's concrete base and to fill in around the LED lighting.